gaffa gallery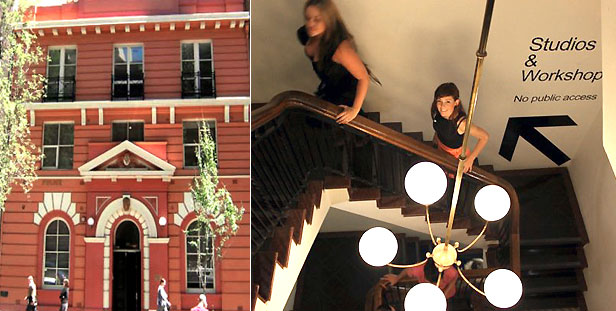 Since 2006, Gaffa Gallery has provided an innovative artist-run exhibition space supporting emerging contemporary artists, designers and collaborative group projects. At the beginning of this year, Gaffa relocated to the impressive 19th century heritage building next to Town Hall Station.
Spread over three floors, the new premises houses four gallery spaces, studios & workshop and a new Gaffa initiative, The Arcade Project, which is geared towards providing a platform for innovative and intelligent design by motivated emerging and established independent designers and makers.
This truly unique opportunity offers creative producers access to short term, affordable, concept retail spaces in Sydney's CBD. The Arcade Project offers and accessible way to gain sales and exposure while sharing the experience as part of Gaffa's creative community. It is located on the ground floor and is fast becoming a landmark centre of cultural collaboration and a cutting-edge retail destination. The four individual spaces are professionally fitted out, and easily adjustable to specific display requirements. Space hire includes on-site retail staff and is available in three-month blocks, allowing for a continual rotation of tenants showcasing a limitless range of new design. Applications are encouraged from all types of creators and makers - from product design and fashion to textiles, homewares, toys, books, stationery & many more. The Arcade Project is situated alongside the Gaffa Jewellery store and Mephisto's Cafe.
Currently showcasing their products are four very different talents:
Emma Elizabeth is a young Australian industrial artist and interior stylist whose work has received international critical acclaim. Emma Elizabeth Designs is utilising the arcade space as a conceptual expression. The space transforms and morphs during the three months, acting as an art installation as well as informative salone. Emma, who currently lives in Milan, will be launching the Emma Elizabeth Designs sliZed collection at this year's Milan design show, as part of the Hidden Heros exhibition. Throughout April, live updates are being fed overnight to the arcade space so that visitors can simultaneously experience the Sydney installation and Milan design show.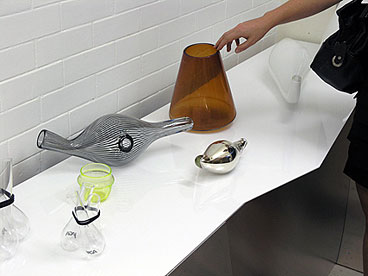 Vert Design is owned and run by Sydney-based industrial designer Andrew Simpson. Vert Design combines expert commercial design practice with the fun and innovation of a small production house. Initially creating designs using glass, Vert then introduced a wide range of materials to their making process, continually fusing the technical and the beautiful.
Just A Glass Act (JAGA) is a newly established Australian based company that designs and develops exceptional art glass products for the global markets. JAGA works closely with both local and international designers & artists to create distinctive, clear forms using the fluidity of glass.
bams & ted is the artist and stylist team of sisters Rachel and Claire Fuller. Their space is an ode to the history of mystery in literature, television and film. Playing on the past life of The Arcade Project setting as nineteenth century police cells bams & ted are creating a rotating collection of theatrical, immersive scenes based on the leading ladies of Picnic at Hanging Rock, To Catch a Thief and lastly Murder She Wrote.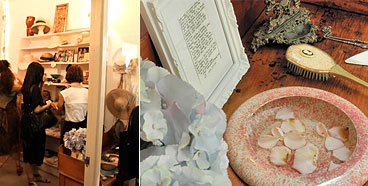 April's collection is titled "Jessica" and set within the floral wallpapered, cosy fireplace of the Cabot Cove home of the fictious Jessica Fletcher. As winter approaches, visitors will be able to purchase Jessica's pussy bow blouses, trench coats, pencil skirts and cashmere cardigans. Of course the scene will tell the tale of the ultimate who dunnit with typewriters and telephones and the scent of Jessica's classic New England mysteries.
Located on Level 1 are Gaffa's four gallery spaces. Artists and designers are invited to submit proposals to exhibit in one of the three main galleries (details here), while Keeper Gallery is dedicated to emerging guest curator tenures.
Opening in Gallery 1 this Thursday evening (6-8pm) is "food&company" - a feast of design, art, ideas and food! Emerging artists & designers have been asked to respondto the exhibition title. The exhibition has been organised by &company - an Australian design studio consisting of emerging designers, bringing new, inspired products to market. Participants will include: Samantha Denmark, Jacqueline Chan, Lauren Esdaile, Lucy Hall, Katherine Heise, Jefferton James, Anna Kalloudis, Sarah Long, Charmaine Ng, Gemma O'Brien, Clare O'Flynn, Rochelle Pauw, Elizabeth Reed, Naomi Taplin and Hayden Youlley, and a large variety of works will be on display in ceramics, furniture, illustration, textiles, photography, graphics, installations & more...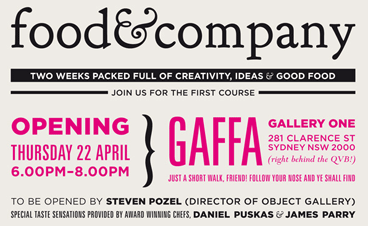 The exhibition will feature special events such as the "Design Laboratory", a temporary installation where visitors can see designers from &company in action, a pop-up shop with an exclusive preview of &company's first designs + limited edition works, "Lucy Feeds the Masses" (a free lunch on Monday April 26 at 12.30pm) and a free talk series. Speaking at "Food & Design" on April 29 (6pm) will be Lucy Hall from Dutch catering firm, Proef, Chris The, owner/chef at Black Star Pastry, Newtown, and Andrew Simpson, Director of Vert Design. On May 1 (3.30pm) you're invited "Thrills & Spills" to hear Michelle McCosker & Alisdair Nicol from Reef Knot, indie contributor Danielle Hairs from Object + special guests.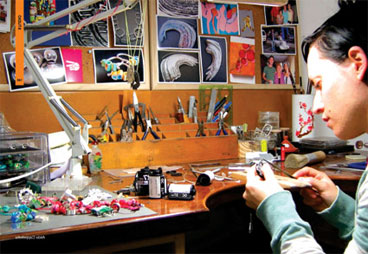 The studio and workshop expansion on Level 2 allows Gaffa to house additional resident studio artists working in the fields of jewellery & object design, glass art, metalwork, plastics, ceramics and more. In fact, the workshop is the largest communal jewellery & object design space of its kind in Australia. The lockable studio spaces are available to successful applicants, and include access to the facilities in the communal workshop, the opportunity to display work in the Gaffa Jewellery Store, and low rent beginning from $110 per week. Classes taught by resident artists are also available to the public in techniques such as silver jewellery.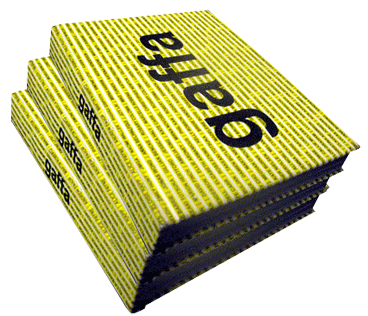 Gaffa Gallery's web site also features an online store where you can purchase selected jewellery, objects and "Short Story #1: gaffa - an artist-run initiative", the book which features Gaffa's program from its beginning in 2006 to December 2008 in 220 pages. The publication sells for AUD $48 and features artists who have participated in Gaffa's exhibition program over the years. Short Story #1 not only serves as a profile of the space itself, but also to provide a glimpse into some of the fascinating and inspiring practices of the people who have been involved with Gaffa Gallery. We are, of course, also looking forward to seeing Gaffa's future unfold at the new location - perhaps there will be a "Short Story #2" to come...