indie art & design blog
climbing the walls
Sunday, June 29, 2008 | by Carolyn Price
These gorgeous creations are by Melbourne designer Monique Gaspar. She recently launched her label, Look at the Wall, after she was inspired to decorate the walls of her own boy's rooms. She's always loved craft, but working full time as a medical imaging technologist (taking X-rays), she struggled to find enough time. This project, however, expanded quickly into a home-based business which currently offers 10 limited edition designs - each one handmade from a different selection of papers so you know it's unique!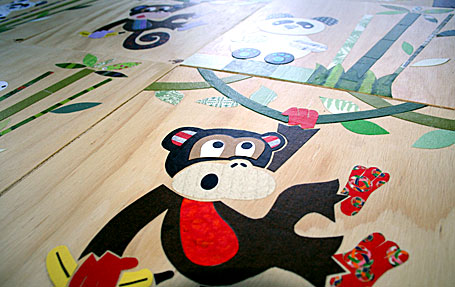 Monique chooses from a vast array of different papers such as handmade and processed papers, magazines, recycled, maps & more... (If anyone wants to find a home for their scrap papers, Monique can put them to good use!)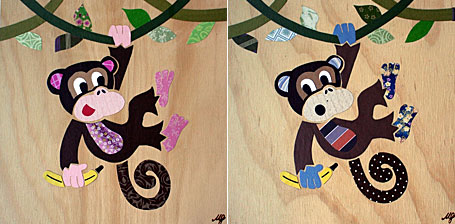 Monique is very flexible, and is more than happy to work with a specific colour scheme or customise an artwork with a child's name. I'm rather taken with the idea of a series of the same design - each one with different details and colour schemes. You can see above how good the different "Cheeky Monkey" designs would look hanging together.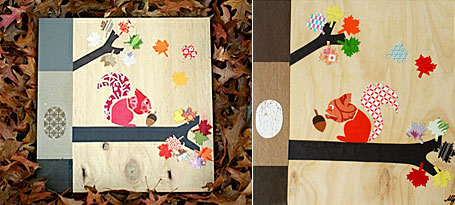 Look at the Wall collages measure 30 x 30 x 1.2cm and come with a protective polyurethane matte varnish and a sawtooth hanger ready to be hung on your wall. They will surely delight little minds with colours, textures & happy animal friends. Each step of the process has been handmade with love - from initial drawing, to cutting & sanding the wood, then choosing & cutting the paper designs and assembling the collage. Monique likens choosing the complimenting colours to picking out clothes, and considers this the hardest part - not all colours go together!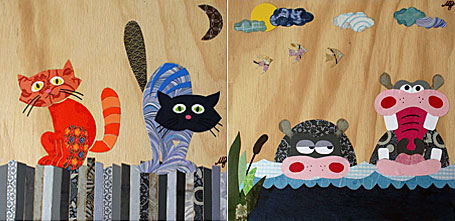 Each children's wall art collage is available for AUD $120, from the
Look at the Wall web site, and from the following stockists:
VIC: My Poppet (Caulfield South), 1001 Things for Kids (Carlton North)
NSW: Fragile (Bondi Junction)
SA: One Small Room (Croydon)
ONLINE: Kids Gift List, Wallspace, Urban Child, Beyond Pink and Blue, Beautifly, Shophouse, Giggle Smile Designs, Rosie Pose, Lala Baby, Chic Kids, Mini Echo